NORTH YUKON PLANNING REGION:
Integrated Management Area, Zone IV
Vuntut Gwitchin First Nation
2,269 km2 (3.7% of Region)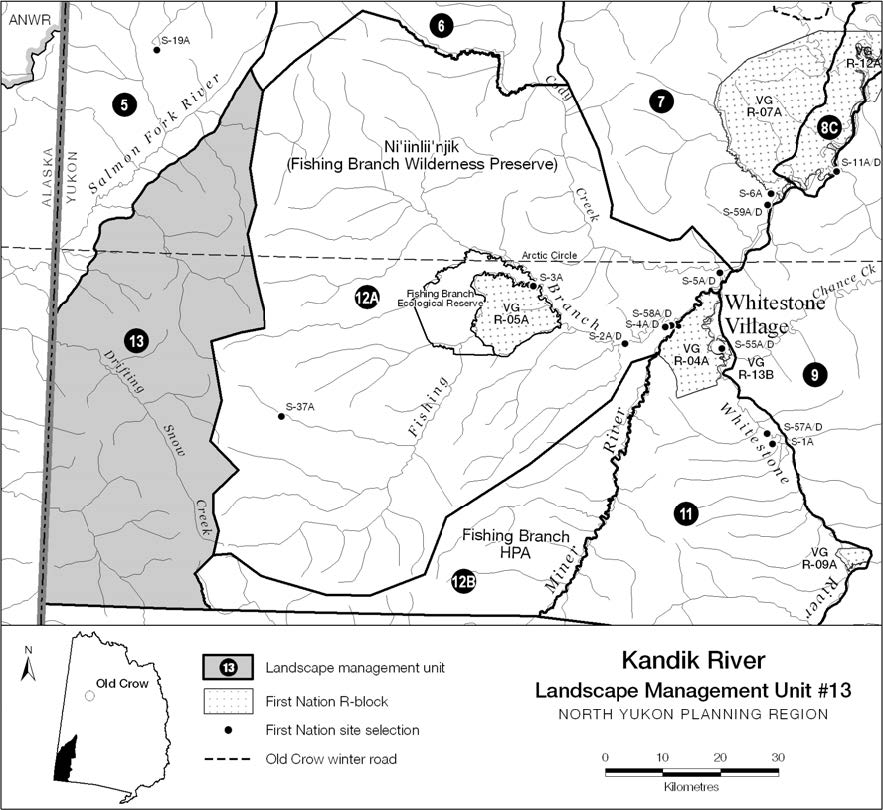 Biophysical Setting (LMU 13)
Mountainous unit west of Ni'iinlii'njik (Fishing Branch) SMA
Taiga Wooded, Taiga Shrub and Alpine (minor).
Low to mid-elevation coniferous forest, shrub and herb; high elevation sparsely vegetated, herb, shrub and rock; minor amount wetland and riparian.
Yukon River (Drifting Snow Creek, Graying Fork River and other tributaries to Salmon Fork River).
Characteristic landscape of LMU #13 as seen from Alto mineral property. Orma Hill airstrip visible in middle view.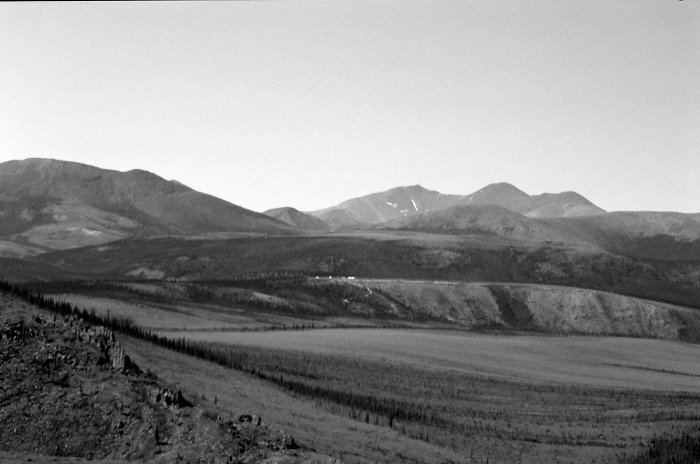 Cumulative Effects Thresholds
Linear Disturbance (km/km2)
Current disturbance (2020)
Surface Disturbance (km2)
Current disturbance (2020)
Room under cautionary threshold***
*These are proportional to the size of the LMU, and correspond to table 3-2 of the Approved Plan. They are measured in the % of the LMU that can be disturbed ("Surface Disturbance") and in km/km2 ("Linear Disturbance Density").
**These are amounts that can be measured and apply to the whole LMU and would be more familiar to project proponents and regulators. They are measured in km2 of disturbance and in km of linear disturbance (e.g., roads, trails and cutlines).
***How much more disturbance can be added to existing disturbance before the cautionary threshold is reached.
Amount of disturbance relative to the cautionary theshold:
Ecological Resources
Caribou general use area during fall migration, winter, and spring migration periods.
Significant seasonal habitats around Drifting Snow, Grayling Fork and other large tributary streams.
Moderate value winter habitats.
No known sheep populations.
No documented fish over-wintering habitats.
Limited number of wetlands and lakes; one identified wetland occurs in north-central portion of unit.
Drifting Snow, Grayling Fork, and other tributary streams.
Heritage, Social and Cultural Resources
VGFN Heritage Routes and Sites
No identified heritage routes or sites.
Other Heritage and Historic Resources
Few documented archaeological sites, including Poulton Station, potentially one of oldest sites in Yukon. High potential for additional discoveries in limestone caves.
Current Community Use Areas
Economic Development
Transportation and Access
No existing transportation infrastructure. Access route to Rusty Springs mineral property utilized historically.
No identified activities.
Low interests and activity.
Moderate potential; part of Kandik oil and gas basin.
Moderate to high potential; this unit contains some of highest relative mineral potential in the region.
Aggregate (Gravel) Resources
Special Management Considerations
This unit has substantial knowledge gaps with respect to ecological, heritage and economic resources.
Southern boundary is adjacent to Tr'ondëk Hwëch'in Traditional Territory (south of 66°N latitude).
Western boundary is adjacent to Yukon – Alaska border.
Copyright 2023
Yukon Land Use Planning Council