NORTH YUKON PLANNING REGION:
LMU 14: Chuu Tl'it Gwa'an
Yukon public land and TH Settlement land (TH R-28A, TH R-29A, TH R-30A, TH R-31A, TH R-32A, TH R-33A, TH R-49A) and VGFN Settlement land (VGFN S-32A1)
Vuntut Gwitchin First Nation and Tr'ondëk Hwëch'in
5,377 km2 (8.8% of Region)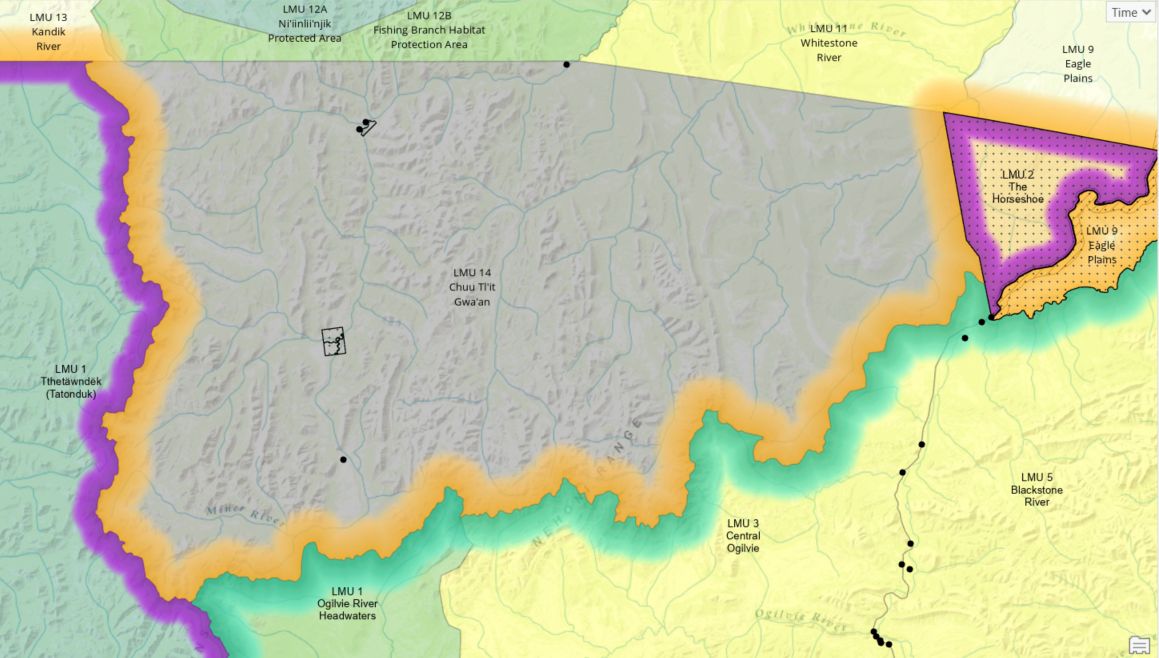 Biophysical Setting (LMU 14)
South of Ni'iinlii'njik (Fishing Branch) SMA and north of the Peel Watershed. Mountainous to the west, and rolling forested plateau to the east.
North Ogilvie Mountains and Eagle Plains.
Boreal and Subarctic Alpine Tundra.
Whitestone and Miner Rivers
Overview
This part of the North Yukon Planning Region was not included in the 2009 Approved Regional Plan because at the time it was considered part of the Dawson Region. An subsequent TH and VGFN agreement on a contiguous boundary between their respective Traditional Territories led to this area being absorbed into the North Yukon Region. We expect that this area will be planned when the North Yukon Regional Plan is reviewed. Information about this area was collected in the Resource Assessment Report (2020) of Dawson Regional Planning Commission. This area was referred to as the North Yukon Regional Land Use Plan Annex (or Annex) in that document.
Cumulative Effects Thresholds
Linear Disturbance (km/km2)
Current disturbance (2020)
Surface Disturbance (km2)
Current disturbance (2020)
Room under cautionary threshold***
*These are proportional to the size of the LMU, and correspond to table 3-2 of the Approved Plan. They are measured in the % of the LMU that can be disturbed ("Surface Disturbance") and in km/km2 ("Linear Disturbance Density").
**These are amounts that can be measured and apply to the whole LMU and would be more familiar to project proponents and regulators. They are measured in km2 of disturbance and in km of linear disturbance (e.g., roads, trails and cutlines).
***How much more disturbance can be added to existing disturbance before the cautionary threshold is reached.
Copyright 2023
Yukon Land Use Planning Council