NORTH YUKON PLANNING REGION:
LMU 3: Driftwood River – Salmon Cache
Integrated Land Management Area, Zone II
Yukon public land and VGFN Settlement Land (VG R-03A and several S-sites)
Vuntut Gwitchin First Nation
2,864 km2 (4.7% of Region)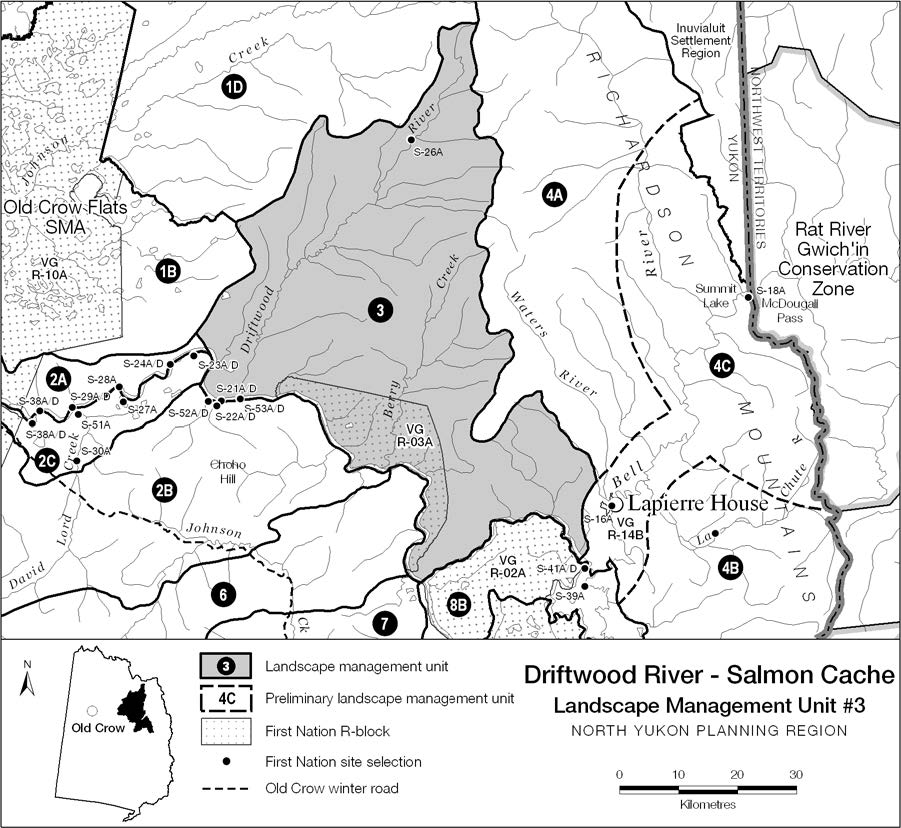 Biophysical Setting (LMU 3)
Gentle pediment slopes; transition between Northern Richardson Mountains and Foothills and Old Crow Basin.
Old Crow Flats, Old Crow Basin and Eagle Plains.
Taiga Wooded, Taiga Shrub and Tundra (northern portion).
Low elevation herb and shrub dominant; some coniferous forest and shrub; minor amount wetland and riparian.
Porcupine River (Driftwood River, Berry and Rat Indian creeks).
Lower Driftwood River, near confluence with Porcupine River. (CWS photo)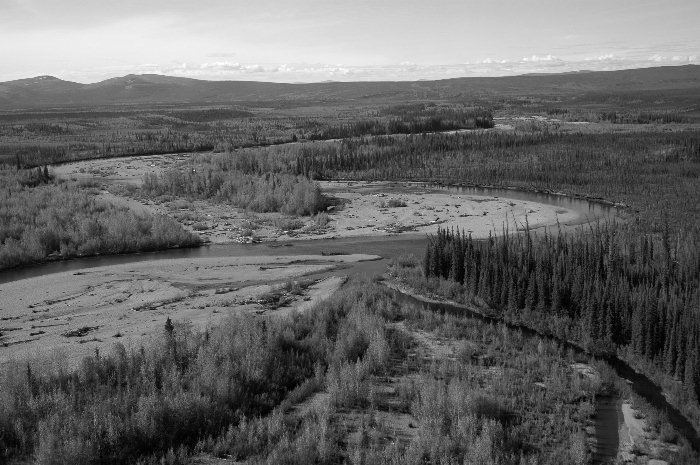 Cumulative Effects Thresholds
Linear Disturbance (km/km2)
Current disturbance (2020)
Surface Disturbance (km2)
Current disturbance (2020)
Room under cautionary threshold***
*These are proportional to the size of the LMU, and correspond to table 3-2 of the Approved Plan. They are measured in the % of the LMU that can be disturbed ("Surface Disturbance") and in km/km2 ("Linear Disturbance Density").
**These are amounts that can be measured and apply to the whole LMU and would be more familiar to project proponents and regulators. They are measured in km2 of disturbance and in km of linear disturbance (e.g., roads, trails and cutlines).
***How much more disturbance can be added to existing disturbance before the cautionary threshold is reached.
Amount of disturbance relative to the cautionary theshold:
Ecological Resources
Caribou concentrated use in four seasons - summer, fall migration, rutting and winter. Calving occurs infrequently.
Significant habitats in all seasons. High quality winter habitat in Driftwood River corridor.
Low - moderate quality winter habitat.
No known sheep populations.
Identified over-wintering habitat in Porcupine River; potential over-wintering habitat in lower Driftwood River.
Significant grizzly Bear habitat around mouth of Berry Creek and Salmon Cache archaeological site.
Lower Driftwood River and Berry Creek corridors contain wetlands.
Driftwood River valley, Berry Creek valley and numerous small stream valleys.
Heritage, Social and Cultural Resources
VGFN Heritage Routes and Sites
Old Crow to Ft. McPherson trail, via Salmon Cache and Lapierre House.
Other Heritage and Historic Resources
Significant heritage resource values. Documented caribou fences and many archaeological sites.
Current Community Use Areas:
Lower Driftwood River, Porcupine River, Salmon Cache and Burnt Hill.
Economic Development
Transportation and Access
No existing transportation infrastructure; a conceptual access route has been identified in the southern portion of unit*.
Summer and winter subsistence and forest harvesting; general land use.
Low interests and activity (outside of Porcupine River corridor).
Overall low potential; southern margin of unit is in Eagle Plain oil and gas basin.
Overall low potential; western margin of unit contains high potential.
Aggregate (Gravel) Resources
Large stands of riparian spruce limited to lower Driftwood River.
* Source: Yukon Government, Department of Energy Mines and Resources. 2003.
Special Management Considerations
North Yukon Land Withdrawal prohibits land disposition and resource exploration activities.
Important caribou concentrated use area during multiple seasons; Porcupine caribou cross Porcupine River at this unit during fall and spring migration.
High heritage resource and cultural values.
Maintain opportunities for community use and subsistence harvesting.
Copyright 2023
Yukon Land Use Planning Council