NORTH YUKON PLANNING REGION:
LMU 8: Whitefish Wetlands
Sub-unit #8A: Ch'ihilii Chìk Habitat Protection Area
Sub-unit #8a was known in the Plan as Whitefish – Porcupine Lakes
Yukon public land and VGFN Settlement land (VG R-02A, S-14A/D and S-20A/D)
Vuntut Gwitchin First Nation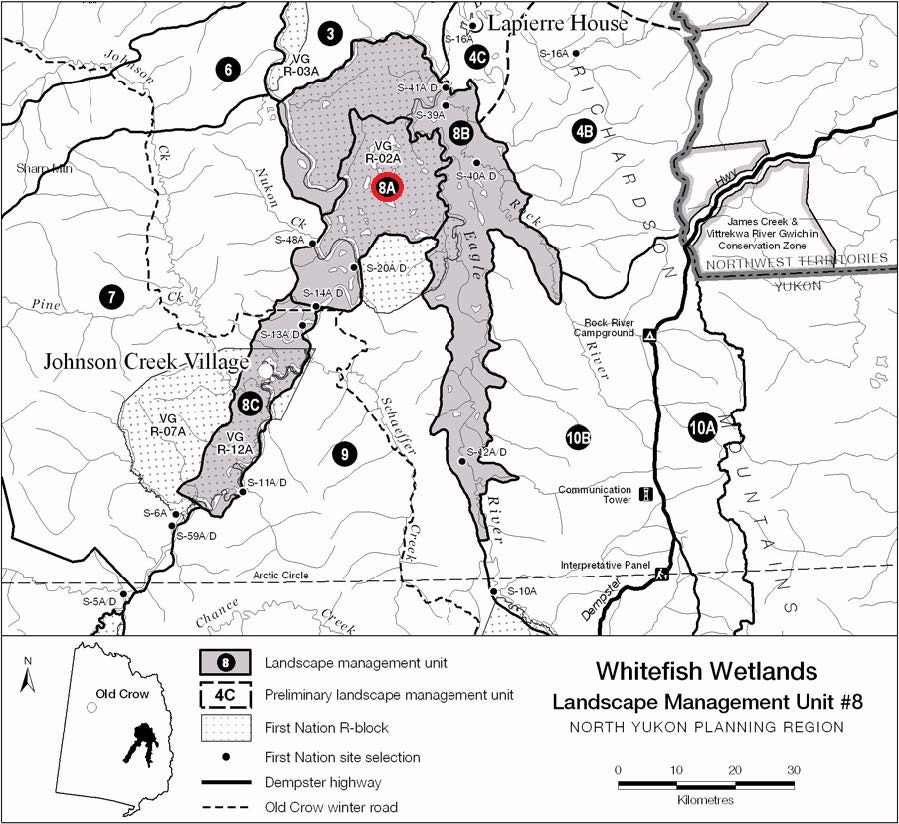 Biophysical Setting (LMU 8)
Large wetland and riparian complex within rolling Eagle Plains plateau.
Low elevation wet herb, shrub and coniferous forest; variety of wetland types, riparian and open water.
Porcupine River (perched wetlands flow to Porcupine, Eagle and Bell rivers).
Central Whitefish wetlands complex, LMU #8A (CWS photo)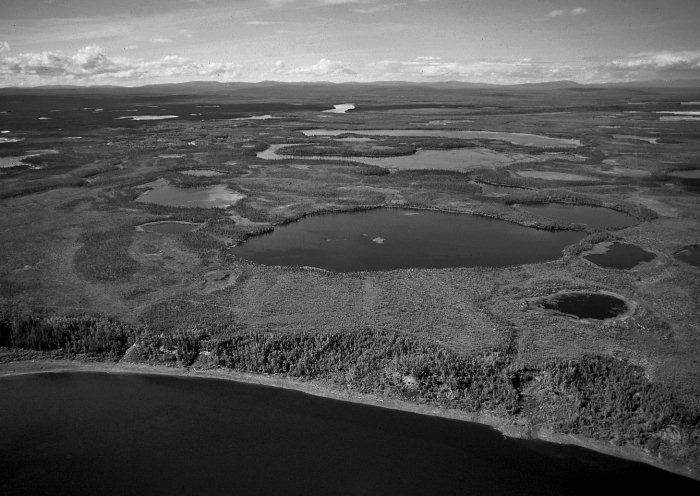 Cumulative Effects Thresholds
Linear Disturbance (km/km2)
Current disturbance (2020)
Surface Disturbance (km2)
Current disturbance (2020)
Room under cautionary threshold***
*These are proportional to the size of the LMU, and correspond to table 3-2 of the Approved Plan. They are measured in the % of the LMU that can be disturbed ("Surface Disturbance") and in km/km2 ("Linear Disturbance Density").
**These are amounts that can be measured and apply to the whole LMU and would be more familiar to project proponents and regulators. They are measured in km2 of disturbance and in km of linear disturbance (e.g., roads, trails and cutlines).
***How much more disturbance can be added to existing disturbance before the cautionary threshold is reached.
Amount of disturbance relative to the cautionary theshold:
Ecological Resources
Caribou concentrated use in two seasons - rutting and winter.
Significant habitats in all seasons.
Moderate quality winter habitat.
Identified over-wintering habitat in Porcupine River; potential over-wintering habitat in Eagle River, Tizya Creek and Whitefish Lake. Creeks connecting the wetland complex to Porcupine River are significant seasonal migration corridors for freshwater species.
Significant bear, waterbird, muskrat and beaver habitats in wetland complex.
Entire unit contains wetlands and lakes; most significant wetland complex in region outside of Old Crow Flats.
Entire unit contains riparian habitat.
Porcupine and Eagle rivers.
Heritage, Social and Cultural Resources
VGFN Heritage Routes and Sites
Johnson Creek Village to LaChute River, via Whitefish Lake. Important traditional use and culturally significant area for both VGFN and Tetlit Gwich'in First Nation.
Other Heritage and Historic Resources
Significant heritage resource values. Documented archaeological and palaeontological sites.
Current Community Use Areas
Much of unit receives seasonal harvesting use.
Economic Development
Transportation and Access
Old Crow winter road runs adjacent to Porcupine Lakes.
Traditional Economy: Multi-season subsistence harvesting and general land use.
Low activity (outside of Porcupine River corridor); Eagle River has high wilderness tourism value and interest.
High potential; unit is in Eagle Plain oil and gas basin.
Very low to no potential.
Aggregate (Gravel) Resources
Special Management Considerations
Proposed as Protected Area land use category (implementation details to be determined by the Parties).
Lakes and creeks in unit are considered important to long-term maintenance of regional freshwater fish populations.
Maintain opportunities for community use and subsistence harvesting.
Existing routing of Old Crow winter road should be maintained.
Copyright 2023
Yukon Land Use Planning Council