NORTH YUKON PLANNING REGION:
Integrated Management Area, Zone IV
Yukon public land and VGFN Settlement land (VG R-02A, R-06A, R-08A, R-12A, S-07A)
Vuntut Gwitchin First Nation
6,450 km2 (10.6% of Region)
Biophysical Setting (LMU 9)
Rolling forested plateau.
Low-mid elevation coniferous and mixed-wood forest and shrub; wetland habitats in valley bottoms; minor riparian.
Porcupine River (Ellen and Shaeffer creeks; Chance Creek – tributary to Whitestone River; several tributaries flowing to Eagle River).
Rolling forested hills with wet valley-bottom habitats are characteristic of the Eagle Plains area. (CWS photo)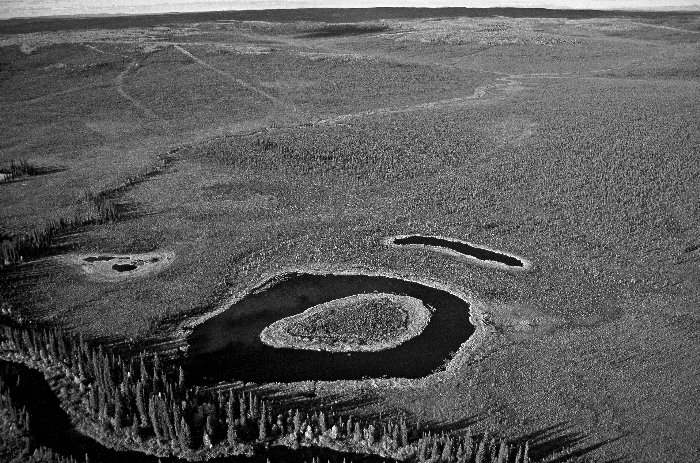 Cumulative Effects Thresholds
Linear Disturbance (km/km2)
Current disturbance (2020)
Surface Disturbance (km2)
Current disturbance (2020)
Room under cautionary threshold***
*These are proportional to the size of the LMU, and correspond to table 3-2 of the Approved Plan. They are measured in the % of the LMU that can be disturbed ("Surface Disturbance") and in km/km2 ("Linear Disturbance Density").
**These are amounts that can be measured and apply to the whole LMU and would be more familiar to project proponents and regulators. They are measured in km2 of disturbance and in km of linear disturbance (e.g., roads, trails and cutlines).
***How much more disturbance can be added to existing disturbance before the cautionary threshold is reached.
NOTE: These values are calculated for the the portion of LMU 9 outside of the Dempster Highway corridor, which is exempt from surface disturbance and linear density indicator monitoring.
Amount of disturbance relative to the cautionary theshold:
Ecological Resources
General fall rutting and winter use area. Some concentrated use occurs in western and northern portions of unit, near Porcupine River and Whitefish Wetlands, and southern portion of unit in vicinity of Dempster Highway and VG R-08A.
Significant seasonal habitats. Shaeffer, Chance and Ellen creeks, and several other small tributary streams contain highest values.
Moderate - high value habitats; mixed-wood riparian and upland habitats most important.
No documented fish over-wintering habitat.
Significant wetland habitats along lower Shaeffer Creek; wet habitats in most valleys.
Shaeffer, Chance and Ellen creeks, and several small tributary streams.
Porcupine and Eagle rivers.
Heritage, Social and Cultural Resources
VGFN Heritage Routes and Sites
Old Crow to Whitestone Village, and Old Crow to Johnson Creek Village via White Snow Mountain.
Other Heritage and Historic Resources
Important historical use area with highest use in vicinity of Whitestone and Johnson Creek Villages. Documented archaeological sites (southeast of Dempster Highway).
Current Community Use Areas
Vicinity of Whitestone and Johnson Creek villages, Whitefish Wetlands, and Dempster Highway corridor.
Economic Development
Transportation and Access
Dempster Highway Corridor and Old Crow winter road. A conceptual access route has also been identified in this unit*.
Caribou harvesting along Dempster Highway (fall, winter and spring); summer travel and harvesting in Major River Corridors.
High summer values and activity along Dempster Highway. Eagle Plains Lodge important tourism service centre. Major River Corridors (Eagle and Porcupine) receive highest recreation use. Whitestone and Johnson Creek villages are possible future interests.
Highest oil and gas potential in region; LMU #9 contains most prospective portion of Eagle Plain oil and gas basin.
Low or no potential. Small portion of southeast corner holds high potential.
Aggregate (Gravel) Resources
Many existing gravel quarries along Dempster Highway corridor. High river terraces along Eagle River represent possible future sources.
* Source: Yukon Government, Department of Energy Mines and Resources. 2003.
Special Management Considerations
Potential new all-season access roads into LMU #9 from Dempster Highway corridor require careful assessment and management.
Tetlit Gwich'in Secondary Use Area, Na-cho Nyak Dun Traditional Territory (east of Dempster Highway), and Tr'ondëk Hwëch'in Traditional Territory (south of 66°N latitude). Tr'ondëk Hwëch'in First Nation R-block (TH R-49A) adjacent to southwestern boundary of unit.
Northern portion of unit is adjacent to LMU#8, Whitefish Wetlands.
25% of unit was affected by wildfire in summers of 2004 and 2005.
Copyright 2023
Yukon Land Use Planning Council