PEEL WATERSHED PLANNING REGION:
LMU 10: Richardson Mountains – South
Non-Settlement Land, TG Yukon Land (R-07FS)
Na-Cho Nyäk Dun, Vuntut Gwitchin, Tetłit Gwich'in Primary and Secondary Use Area
Objectives
Wilderness character is maintained.
Community cultural activities practiced without significant disturbance.
Unfettered movement and habitat use of Porcupine caribou herds Dall's sheep and other large mammals.
Wilderness tourism activities within their carrying-capacity.
Archaeological, palaeontological and other heritage resources are identified and studied.
Rationale for Designation
Concentrated or moderate use by the Porcupine caribou herd in recent decades over much of the unit.
Important N-S migration route for the Porcupine caribou herd.
A small and isolated population of Dall's sheep that may be at risk of decline.
Rare and/or endemic plants and high number of species of nesting bird of conservation concern.
The Peel River Watershed Advisory Committee and the Gwich'in Interim Land Use Planning Board concluded that the Richardson Mountains should be a candidate for protection.
High concentration of VG and TG archaeological sites.
No oil and gas potential, low-moderate mineral potential, and few quartz claims.
Cumulative Effects Thresholds
Current disturbance (2020)
Surface Disturbance (km2)
Current disturbance (2020)
Room under cautionary threshold***
*These are proportional to the size of the LMU, and correspond to table 3-2 of the Approved Plan. They are measured in the % of the LMU that can be disturbed ("Surface Disturbance") and in km/km2 ("Linear Disturbance Density").
**These are amounts that can be measured and apply to the whole LMU and would be more familiar to project proponents and regulators. They are measured in km2 of disturbance and in km of linear disturbance (e.g., roads, trails and cutlines).
***How much more disturbance can be added to existing disturbance before the cautionary threshold is reached.
Amount of disturbance relative to the cautionary theshold:
Biophysical Setting
Unglaciated, sparsely forested mountains lying north of Aberdeen Canyon, and separating Eagle Plains to the west from the Peel Plateau to the east.
British Richardson Mountains
Alpine, Taiga Shrub and Taiga Wooded
Rolling mountains interspersed with valleys carpeted with shrubs and scattered trees characterize much of LMU 10. (CWS photo)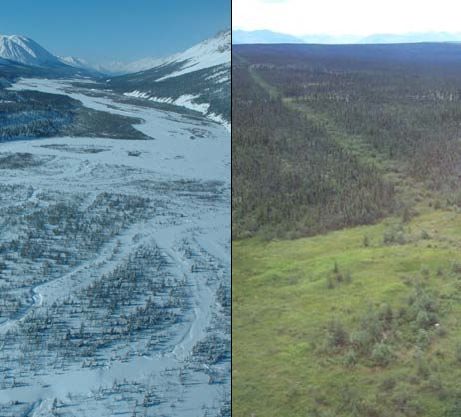 Ecological Resources
Extensive concentrated and general use areas for Porcupine herd for fall and winter seasons, despite low predicted habitat potential for the Porcupine herd. Exposed slopes are important foraging areas, especially in high snow years.
Generally poor late winter habitat, though ribbons of high value habitat follow creeks.
Generally poor winter habitat suitability, except for extensive high value winter habitat on lower slopes to the south of the unit.
Large areas of highly suitable winter habitat with documented (TK, scientific) habitat use. However, the population is small and isolated and is at risk of decline.
Moderate to high habitat suitability, especially high in riparian zones.
Pockets of high value waterbird habitat and in riparian areas; moderate breeding species richness and high concentration of species of conservation concern.
High endemism/rarity index. Low – mid elev. shrub and conifer forest, subalpine shrub and alpine exposed rock.
Wetlands, Lakes and Riparian Areas
A few scattered wetlands. Forms the upper watersheds of Doll Creek, Trail, and Caribou Rivers.
Continuous permafrost is predicted.
Several documented wildlife passes and possible pass.
Heritage, Social and Cultural Resources
High concentration of VG and TG archaeological sites. Several TG culturally important places. Travel route from Caribou River to lower Peel River.
Palaeontological Resources
Economic Development
Transportation and Access
TG seasonal land use and traditional harvesting and wildlife areas; TH fish harvest on Trail River.
Little potential for forestry.
Big Game Outfitters and Trapping
No registered concessions.
Approximately 208 (2023, 260 in 2011) quartz claims; low to moderate general mineral potential.
Special Management Considerations
None
Copyright 2023
Yukon Land Use Planning Council