PEEL WATERSHED PLANNING REGION:
LMU 15: Peel Plateau East
Wilderness Area-Boreal Caribou
Na-Cho Nyäk Dun, Tetłit Gwich'in Primary Use Area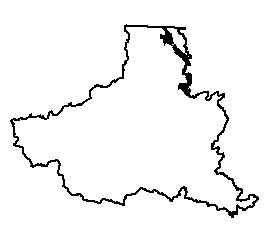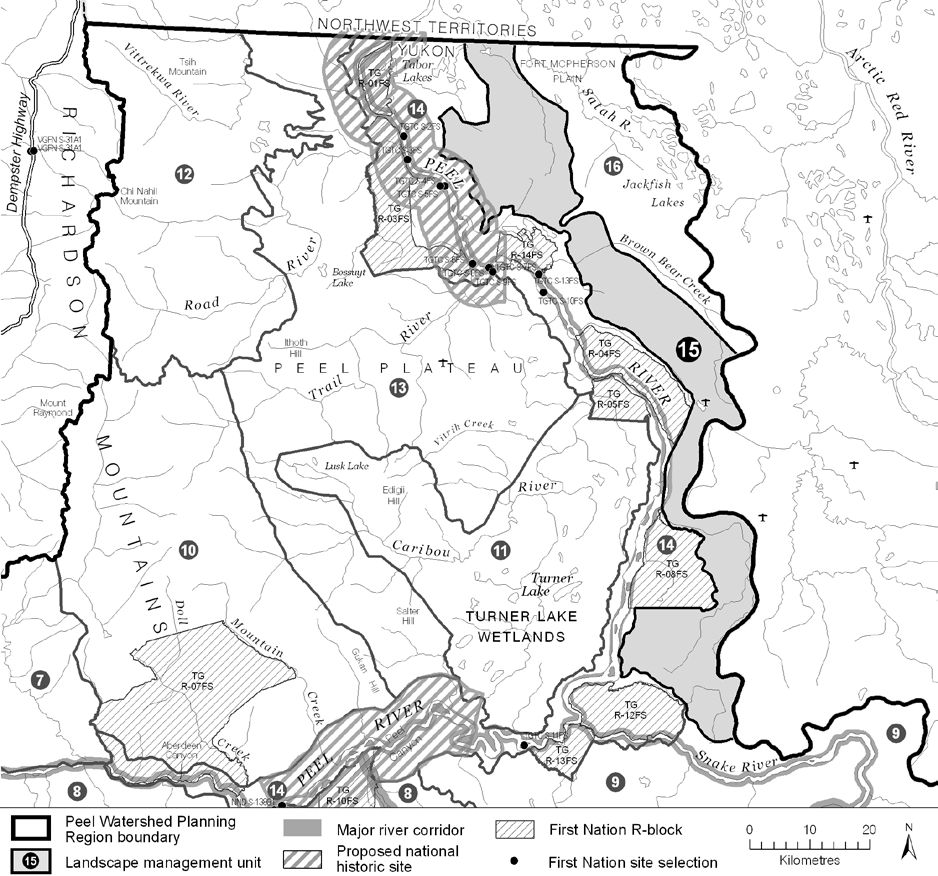 Objectives
Ecological integrity is maintained.
Helps meet requirements under the federal SARA, with respect to protecting critical habitat of the Boreal caribou herd.
Permitted land use activities do not significantly impact movement and habitats of caribou.
Meaningful consultation is done with the TG and NND regarding any new significant land-use activities that might cause surface disturbance.
Rationale for Designation
Unique overlap of key habitats including Yukon's core habitat of Boreal caribou herd.
Yukon's obligations under SARA with respect to Boreal caribou.
No big-game outfitting activities and no tourism/recreation activities.
Cumulative Effects Thresholds
Current disturbance (2020)
Surface Disturbance (km2)
Current disturbance (2020)
Room under cautionary threshold***
*These are proportional to the size of the LMU, and correspond to table 3-2 of the Approved Plan. They are measured in the % of the LMU that can be disturbed ("Surface Disturbance") and in km/km2 ("Linear Disturbance Density").
**These are amounts that can be measured and apply to the whole LMU and would be more familiar to project proponents and regulators. They are measured in km2 of disturbance and in km of linear disturbance (e.g., roads, trails and cutlines).
***How much more disturbance can be added to existing disturbance before the cautionary threshold is reached.
Amount of disturbance relative to the cautionary theshold:
Biophysical Setting
Sparsely treed and plain with wetlands.
Taiga Wooded and Taiga Shrub
Plain with sparse forests, wetlands and historic seismic lines are characteristic of LMU 15. (CWS photo)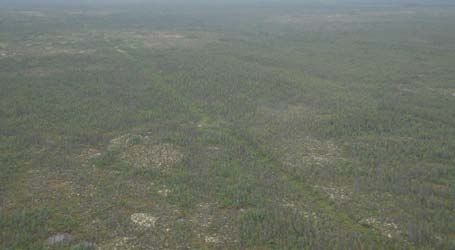 Ecological Resources
Moderate and high habitat suitability for the Boreal caribou herd.
Variable quality late winter moose habitat – generally moderate, with ribbons of high. High habitat use along incised tributaries.
Extensive and concentrated moderate to high winter habitat suitability.
Fish presence likely throughout.
Low habitat suitability increasing to moderate along riparian areas.
Extensive high quality waterbird habitat; moderate breeding spp. richness and species of conservation concern.
Low endemism/rarity. Low-mid elev. dry/wet shrub and conifer forest; riparian forests and shrubs.
Wetlands, Lakes and Riparian Areas
Extensive wetlands, including part of a Yukon Key Wetland.
Extensive high water content permafrost expected.
Heritage, Social and Cultural Resources
TG historic travel route and use area.
Palaeontological Resources
Economic Development
Transportation and Access
High concentration of old winter roads and linear features (e.g., seismic lines). Somewhat close to the Dempster Highway.
TG traditional harvesting and wildlife areas and seasonal land use.
No identified current recreation values.
Little potential for forestry.
Big Game Outfitters and Trapping
No registered concessions.
Peel Plateau and Plain basin with moderate (northeast) potential; one abandoned well.
Unknown mineral potential.
Special Management Considerations
The Boreal Caribou Recovery Plan is relevant to management of land-use activities in this unit.
Copyright 2023
Yukon Land Use Planning Council